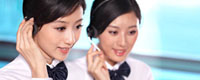 Tel: +86 20 2988 6684
Fax: +86 20 2898 1384
E-mail: [email protected]
E-mail: [email protected]
Add: Room 301, Dongtai Business Centre, 1st.Dongping Avenue, Baiyun District, Guangzhou 510440, P.R.China



Product name : PSA Medical Oxygen Genertor System

Item : 201511523419

Model No. :
Details:
Medical PSA Oxygen Generator System

The prime rationale of economical way to produce Oxygen is to separate Oxygen from air.
Now, two kinds of technologies are widely used, they are cryogenic Oxygen generating technology, and PSA Oxygen Generating technology.

In a specific pressure environment, drive air pass through the Zeolite Modular Sieves, they adsorpts Nitrogen, and let other gases (mainly Oxygen) pass. After pressure releasing, the adsorpted Nitrogen will be released, too. Accordance to this principle, by swing pressure in a vessel with Zeolite Modular Sieves, we can remove Nitrogen from air, and get high purity Oxygen gas.
PSA (Pressure Swing Adsorption) Oxygen Generator just produces Oxygen gas by this way.

The most important factors of a PSA Oxygen Generator are Oxygen Producing Capability, Produced Oxygen Purity, and Equipment Service Life.
1, Oxygen Producing Capability: it depends on input compressed air flow rate (and Zeolite Modular Sieves quantity). Now, small Oxygen producing capability equipment is available, such as the Oxygen Concentrator (normal Oxygen producing capability as 5~20L/Min), in essence, it is a small PSA Oxygen Generator. However, for economic reasons, the smallest PSA Oxygen Generator used for Medical Gas Pipeline System, its' Oxygen producing capability is 50L/Min (3.0Nm3/hour);
2, Produced Oxygen Purity: by PSA Technology, the Oxygen generator removes Nitrogen from air and gets Oxygen gas. However, in air, there are some other components, such as Helium, are not removed. So, theoretically, if no post processing equipment helping, the PSA Oxygen Generator produces Oxygen gas purity as no more than 96%;
3, Equipment Service Life: equipment service life depends on Zeolite Modular Sieves service life. After some servicing time, the Zeolite Modular Sieve releases dusts. So, service life of the Zeolite Modular Sieves is limited.

The C&H Medical PSA Oxygen Generator System / PSA Oxygen Plant is a on-site Oxygen Source Equipment to produce Oxygen gas for hospital Medical Gas Pipeline System.

Features & Specifications:

1, Different models' Oxygen producing capability from 3Nm3/hr to 100Nm3/hr;
2, Strictly high Oxygen purity controlling technolgy, produced Oxygen purity 92%~95%;
3, Output Oxygen pressure 0.30~0.55MPa / 3.0~5.5Bar adjustable;
4, Imported (France original) Zeolite Modular Sieves, ensure long service life;
5, Main equipment parts separated or skid optional;
6, Made in China or other countries original Air Compressors according users' requirements;
7, Whose equipment system commissioning and testing finished before shipping;
8, Oxygen Plant equipment, such as Oxygen Pressure Booster / Oxygen Compressor, Oxygen Cylinders Filling equipment, etc. available.