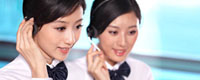 Tel: +86 20 2988 6684
Fax: +86 20 2898 1384
E-mail: [email protected]
E-mail: [email protected]
Add: Room 301, Dongtai Business Centre, 1st.Dongping Avenue, Baiyun District, Guangzhou 510440, P.R.China



Product name : Room Air Purificating and Sterilizing Disinfector

Item : 2020814145220

Model No. : CH-APS-Y1200
Details:
Room Air Purificating and Sterilizing Disinfector (Ground Type)
Function of the Ground Type Room Air Purificating and Sterilizing Disinfector is to purify and sterilize room air.
It is effective for user to pretect family from COVID-19 coronavirus epidemic.

The room air purificating function is serviced by Air Filters (including HEPA Filters and Compound Active Carbon Filters) inside;
And room air sterilizting / disinfecting function is serviced by Plasma Generator (Plasma Electric Field) & UV Lamps inside.

Especially, this Room Air Purificating and Sterilizing Disinfector supplies big air flow as 1200m3/hour (706.3CFM), it is suitable for a big space room.


Function: In Room Air Purificating & Sterilizing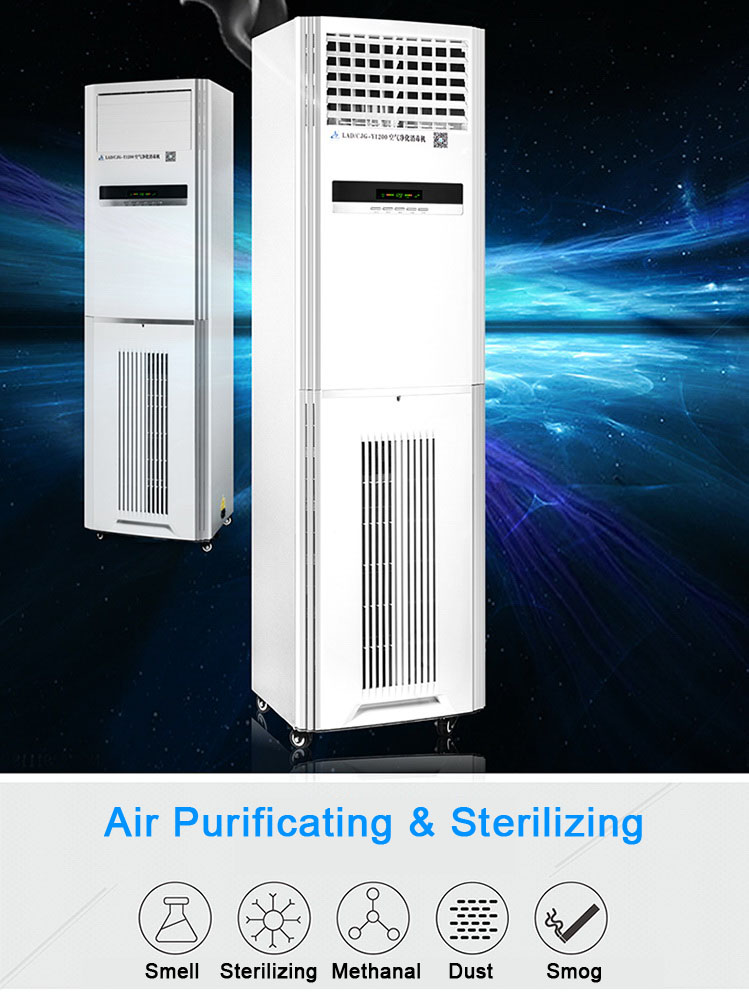 Available to remove room air smell, methanal, dust, smog, and to sterilize bacteria.
It purifies and sterilizes room air by multiple technolgoies.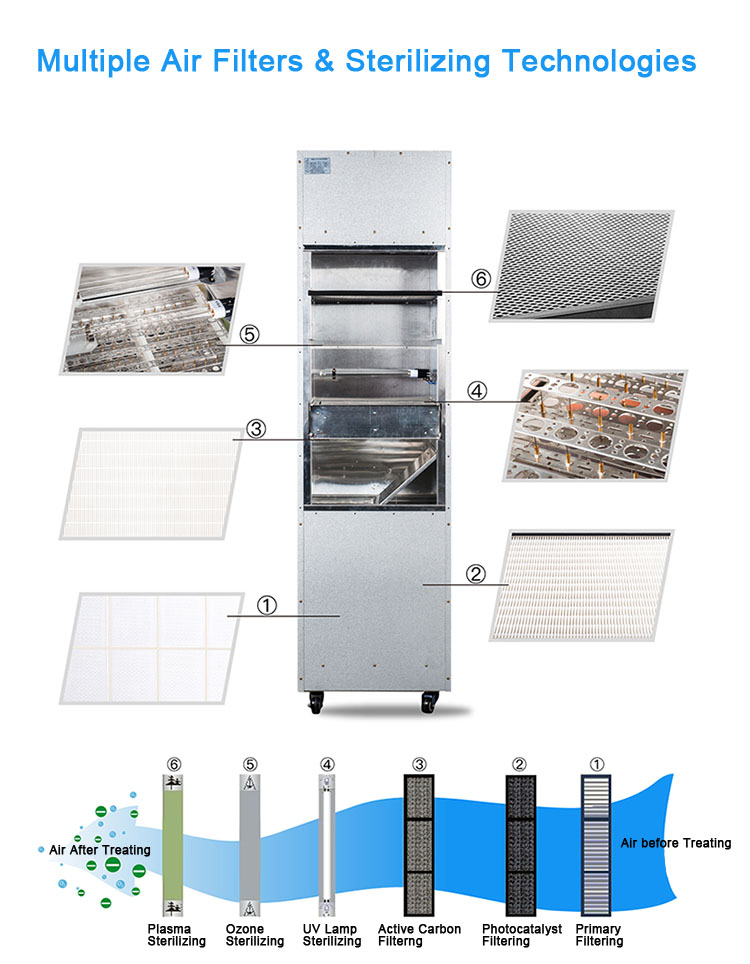 Including:
Primary Air Filtering
Photocatalyst Air Filtering
Active Carbon Air Filtering
UV Lamps Sterilizing
Ozone Sterilizing
Plasma Sterilizing

By lasting sterilizing and thorough disinfecting, to supply purified clean and sterilized air flow in rooms.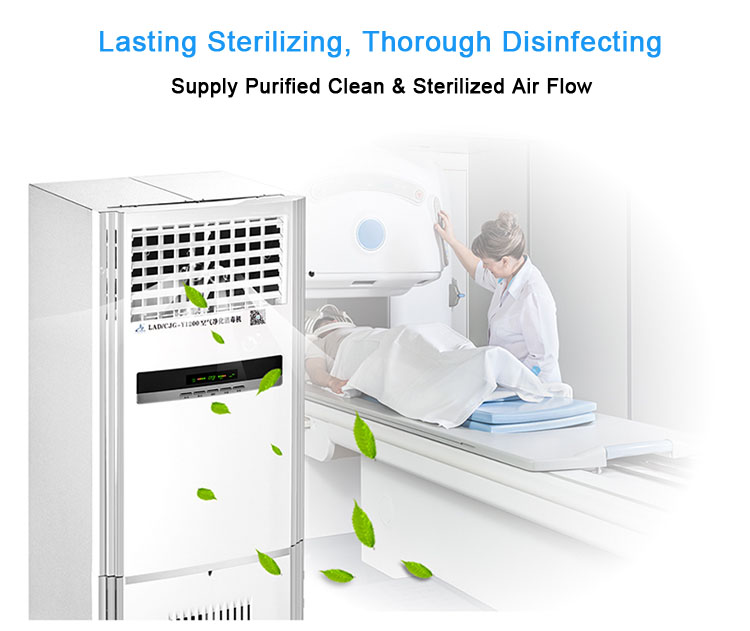 Specifications & Technical Parameters:

Installing Mode: Ground placing
Controlling Mode: Button & Remote Controller
Electricity Supply: ~220V/50Hz or Customized
Power: ≤0.2KW / 200W
Size: 518(L)x420(W)x1900(H)mm
Treating Air Flow: 1200m3/hour
For Room Space: 120m3 (Medical Environment) or 150m3 (Non-medical Environment)
Plasma Voltage: 4100~8200V Adjustable
Noisy: No More Than 45dB
Air Cleaning Effect:

Clean Class: 10,000 (FED 209E) / Class 7 (ISO 14644-1)
Purificating Rate: ≥98%

Effective Sterilizing Rate: ≥99.96%

TVOC Removing: ≥90%
Anion Density: ≥2*106pcs/cm3
Ozone Content: ≤0.006mg/m3
This Cabinet Type Room Air Purificating and Sterilizing Machine is applicable for sites as: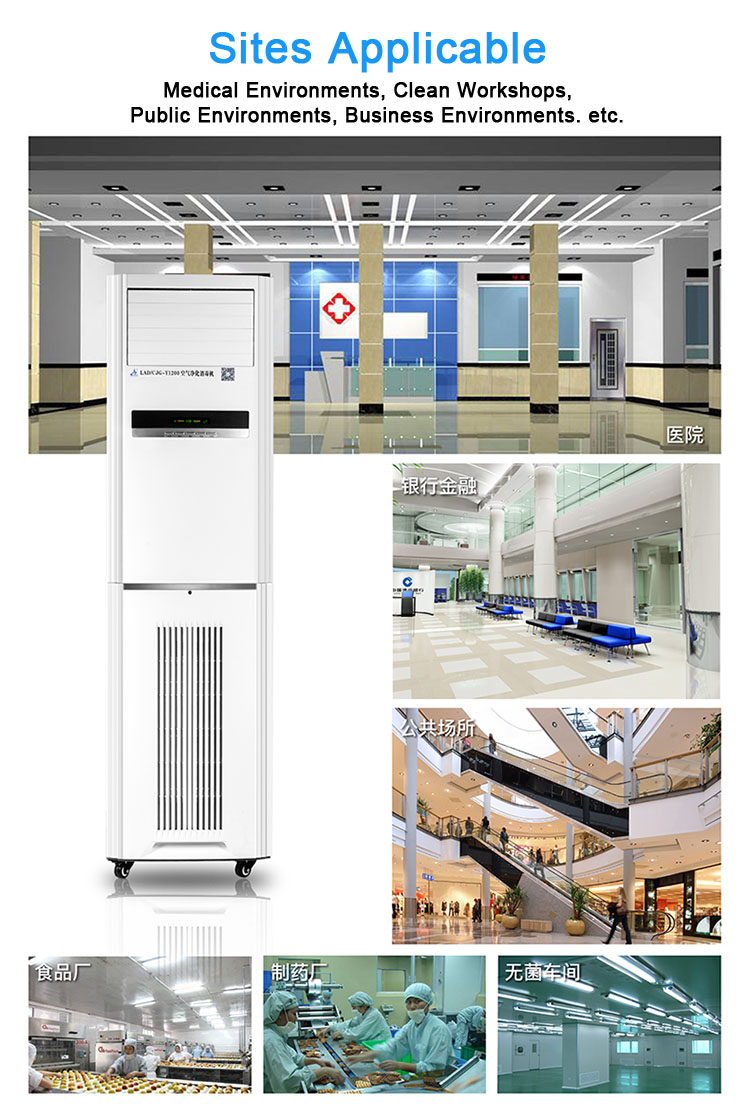 including medical environments, clean workshops, public environments, business environments, etc.